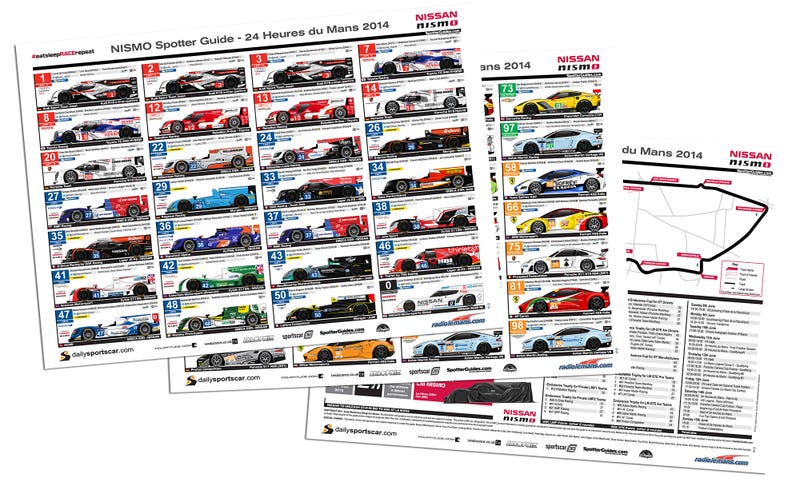 Version 2 3 4 of the Nissan NISMO Spotter Guide for the 24 Heures du Mans 2014 is now available as a free download following Scrutineering and Qualifying incidents(EDIT: and Marc Gene moving to the #1 Audi with Oliver Turvey in at Jota. Kaffer at #71 Ferrari and Crubilé at #79 ProSpeed.)
The guide features all 56 cars, team, chassis, engine and driver details along with a timetable, map and current WEC points standings and is the perfect tool for watching at the circuit or from home.. Each car has been illustrated in detail, with the assistance of almost every team. Thanks to these teams, we have the most up to date visual guide available anywhere including the official app!!
In 2013, every commentary team at the circuit used the guide and it is also used by many teams on the pitwall and marshals.
This (hopefully) final release is available as a 3 page A3 size PDF and as 3 separate JPEG's (4500pixels wide) which is perfect for desktop wallpaper and large printing. A A4 sized version is also available, in high (great for home printing) and low (mobile device) resolution
No apps or fees are required.
You can download the guide HERE, along with any future update
Huge thanks to Nissan for partnering with the guide. Make sure you follow their Twitter Account @NISMO_Global . Thanks also to the media partners including Jalopnik, DailySportscar and RadioLeMans.com.

Without their involvement, would be no Spotter Guide this year as it takes many many hours to produce.
Thanks to everyone who downloads the guide. Much appreciated.
Andy